Online Tour and Activity Plan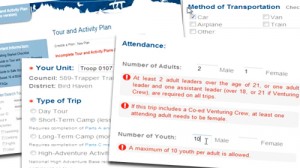 The new Tour and Activity Plan officially replaced the old Tour Plan on May 10, 2012.
An informative training video has been developed on how to use the new Tour and Activity Plan application. It can be found here. The Tour and Activity Plan FAQ page can also be viewed here. Please contact the Central NC Council with any questions or concerns.
If you need to file a Tour and Activity Plan, please remember you need to do so 21 days (3 weeks) before the unit activity takes place.
You will need to log in to www.myscouting.org and select the tour and activity plan under your "Unit Tool."
If you do not already have a MyScouting accounting (you may have created one to complete online training such as Youth Protection), you will be prompted to create a user name and password before you can use the online Tour Plan system.
Situations that require a Tour Plan to be submitted include:
Trips of 500 miles or more; or
Trips outside of council borders (exception: not to your council-owned property); or
Trips to Florida Sea Base, Northern Tier, Philmont Scout Ranch, Summit Bechtel Reserve (you will be asked to present a copy of your tour and activity plan upon arrival), national Scout jamboree, National Order of the Arrow Conference, or a regionally sponsored event; or
When conducting any of the following activities outside of council or district events:

Aquatics activities (swimming, boating, floating, scuba, etc.)
Climbing and rappelling
Orientation flights (process flying plan)
Shooting sports
Any activities involving motorized vehicles as part of the program (snowmobiles, boating, etc.); or
At a council's request (contact the Central NC Council for additional guidelines or regulations concerning tour and activity plans)
Regardless, the tour and activity plan is an excellent tool that should be included in preparation for all activities, even those not requiring it. It guides a tour leader through itineraries, travel arrangements, two-deep leadership, supervision qualifications, and transportation.