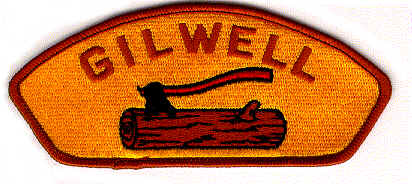 Despite your busy schedule, your personal obligations, and your other commitments and interests, you have given your time, your talents, and your energy to work with the Cub Scouts, Boy Scouts and/or Venturing Scouts of the Central North Carolina Council. We may not be able to tell you every day, but we couldn't be more grateful for everything you do for ourlocal youth and for the Scouting program in our Council. So, thank you.
Now . . . what can we do for you?
How can we make your volunteering experience within Scouting the best and most rewarding personal experience for you?

How can we help you up your game – as a leader, as a volunteer, and as a person?

How can we refill your fuel tank, reinvigorating that Scouting spirit that led you to become a Scouter in the first place?

How can we maximize the benefit that the youth in your unit receive from you and the gifts of your time and leadership?
Two words:

Subtle enough?

You've seen other Scouters wearing those colorful green, yellow and red plaid neckerchiefs. You've seen the leather strands with wooden beads hanging around their neck. You've heard them trading war stories, talking about getting back to Gilwell,
and chuckling about Bobwhites, Bears, Foxes, and other critters. You've heard the phrase "Wood Badge" repeated with respect and genuine affection. But what is Wood Badge?
Simply put, it is the single best thing you can do for yourself, your unit, the youth in your unit, and Scouting across our Council.
Pretty big claim, huh? Well, I'm not the only one who thinks so . . .
Alex Adkins, Scoutmaster, Troop 226, Union District, Monroe, NC:
Wood Badge today is not so much how to be a Scouter, it teaches us why we are Scouters and what it means to be a Scouter.
Wood Badge is THE highest concentration of committed Scouters you will ever find in the Council. Wood Badge gives you instant access to literally hundreds of years of Scouting experience.
Wood Badge will allow you to actually find out if what "the book says" will work. Wood Badge is critical for folks that are struggling in dysfunctional units.
Wood Badge is the only opportunity some of us will ever have to be a Scout, even if just for a few days. Who could turn down that opportunity?!?
Wood Badge literally changed my outlook on Scouting. In the course of two weekends, I was reminded that it is possible to (1) Have fun and (2) Follow the program while keeping your sanity and impacting the lives of young people.
David Wilson, Scoutmaster, Troop 442, Rowan District, Salisbury, NC:
Wood Badge helps people develop communications skills and learn about leadership development. More importantly, it helps them to understand that they do not have to know everything or do everything themselves. It helps them learn how to look for other people's knowledge and skills and include them as part of a team in building a successful program.
Todd Scarlett, Troop Committee Chair, Troop 99, Union District, Weddington, NC:
The Wood Badge staff did an amazing job. My biggest concern about taking the course was that I would invest all that time and effort and the course would be done halfway and would be a waste of time or at least, not worth the time I spent on it. The result couldn't have been further from what I feared. You all did a spectacular job and it greatly exceeded any expectations I had. It was also quite evident how much time and effort it took to put the course on. I'm really blown away by the number of people and the amount of work that went into the course.
Jake Parrott, Assistant Scoutmaster, Troop 443, Rowan District, Salisbury, NC:
I have worked in the corporate world for two very large companies (Food Lion and Lowe's Home Improvement) for over 28 years. During that time, I attended countless training courses to help with skill development. No class that I completed provided me with more take home skills than Wood Badge – not even close. I use it even more for my job than I do in Scouting (although it really helps out in that area as well). I have taught many of the modules to my teams in the office to help them improve their skills.
Wood Badge is by far the most gratifying experience I have had as a Scout or a Scouter.
OK. So it's a great experience. But still, what exactly is Wood Badge?

Wood Badge is a leadership training course like no other. It is specifically designed to be a
mountain top experience for each participant – a highlight in your journey as a Scouter, regardless of your tenure or experience with Scouting, regardless
of the branch of Scouting in which you are involved, and regardless of your specific role within your unit.

The primary purpose
of the Wood Badge experience is to strengthen Scouting in our units, districts, and council . . . one volunteer at a time.
To do this, each Wood Badge course has four specific objectives:
We will provide you with a global view of Scouting as a family of interrelated, values-based programs that

provide age-appropriate activities for youth.
We will help you recognize and understand the contemporary leadership concepts utilized in corporate America and leading government organizations that are relevant to our values-based movement.
We will work with you to apply the training and implement the skills you'll learn from your participation as a member of a successfulworking team.
Finally, we will revitalize your commitment by immersing you in an overall inspirational experience that helps provide Scouting with theleadership it needs to accomplish its mission on an ongoing basis.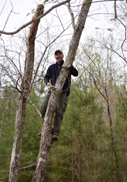 But Wood Badge is so much more than just mechanical course work. Wood Badge is the embodiment of the Scouting spirit, in that it is learning by doing. Like many intense training experiences, Wood Badge relies on a busy schedule that requires the participants to work together as patrols, organizing and developing an enthusiasm and team spirit to accomplish the tasks and challenges placed before them. Carried out over two weekends in a context of Scouting ideals and service to young people, the course brings out a deep dedication and spirit of brotherhood and fellowship, all with the common goal of constantly improving the Scouting program and doing what is best for our youth. Oh yeah, we also have a lot of fun and create a lot of great memories in the process.
And I'm sure you've heard about the Wood Badge ticket. Often compared to the service project for the Eagle rank, the Wood Badge ticket represents your commitment to complete a set of personal goals that you have designed, relating specifically to your Scouting unit with the objective of significantly strengthening your unit and its program. The ticket also gives you an opportunity to practice and demonstrate a working knowledge of the leadership skills presented during the course. The ticket process is to be completed within 18 months after the course.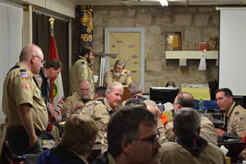 And how is all of this accomplished? A carefully designed curriculum, combined with extensive planning, strict attention to detail, and comprehensive physical
and logistic support, results in a program that is second to none. In fact, preparations for the Fall 2017 Wood Badge course began in May of 2016.
Most importantly, however, is our staff. An outstanding group of dedicated,
thoroughly prepared, and enthusiastic Scouters will be on hand to guide you through a Wood Badge course from which you will return inspired and prepared to do an even better job of providing Scouting to your unit and its youth.
Wood Badge is a time-honored leadership training tradition that goes back to the very earliest days of Scouting. On the morning of September 8, 1919, nineteen men dressed in short pants and knee socks – with no idea what they were in for, but with shirt sleeves rolled up, ready for action – assembled by patrols for the first Scoutmasters' training camp held at Gilwell Park in Epping Forest, outside London, England. That camp was designed and guided by none other than Lord Robert Baden-Powell, a 61 year-old retired general of the British Army and the founder of the World Scouting Movement. Guided by Baden-Powell's mantra that "Every Scout deserves a trained leader," those volunteers undertook 12 intensive days of training, ranging from lectures
and demonstrations to scouting skills and games.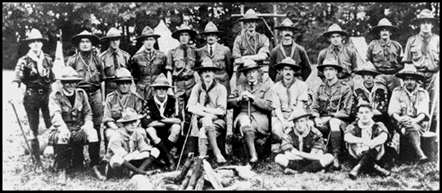 When that training was completed, Baden-Powell personally presented each man with a simple wooden bead from a necklace he had received from a Zulu chieftain while on campaign in South Africa in 1888. The course was a great success and continued to be held year-after-year, each time culminating in the awarding of a wooden bead. Hence, the name "Wood Badge." Replicas of those beads continue to be awarded to this day around the world as recognition of completion of the premier leadership training course for any adult volunteer involved in Scouting.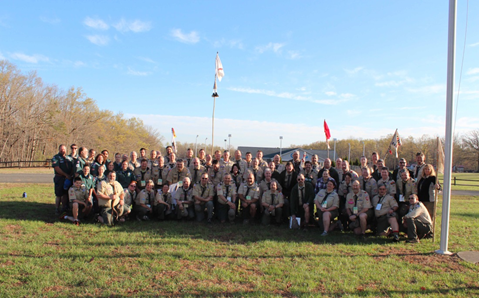 Central North Carolina Wood Badge Spring 2014 course, S5-416-14
My own personal view is that this is an opportunity you can't afford to miss. I was, at best, a very hesitant participant when I signed up to take Wood Badge, and I started that first morning of the course as the quiet, semi-conscious guy in the back of the class. However, Wood Badge quickly lit a fire in me that continues to burn brightly today. Frankly, I am the better Scouter, leader, and person for having taken the course. It is my most sincere hope that you will take the same leap of faith I took. You have my word . . . this will be an amazing experience, and you will be the better for it. But more importantly, your Scouts and your unit will be the better for it. And at the end of the day, don't they deserve your very best?

Here are some important details about the Spring 2020 Wood Badge course:
The next course will be April 18-20 and May 2-3.
Stay tuned to this page for updates. Additional details will be posted as they become available.
Participants should complete ALL training requirements for their position prior to the course.
The course will consist of two weekends. Attendance at both weeks in mandatory and participants should plan on being in camp for the entire course.
Questions? Please contact: Chris Puckett, Course Director SS-416-20 cpuckett6@carolina.rr.com
In Service,
Chris Puckett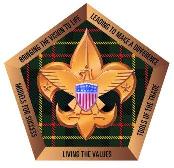 UPCOMING WOOD BADGE EVENTS