SCOUTING IN CENTRAL N.C. STEPS UP to STEM CHALLENGE


Experiential Learning Center Planned at Camp Barnhardt
ALBEMARLE, N.C. – March 10, 2013 -- Science, technological, engineering and mathematical careers are expected to grow more than 20 percent by 2018, twice the rate of the overall U.S. labor force. But despite this trend, close to 60 percent of the nation's students who begin high school interested in S.T.E.M. (Science, Technology, Engineering and Mathematics) change their minds by graduation, according to an article published in U.S. News & World Report.
To address a looming crisis in S.T.E.M. preparedness, the Central North Carolina Council will incorporate the elements of S.T.E.M. in its advancement and educational programs offered at Camp John J. Barnhardt on the William C. Cannon Scout Reservation in Stanly County. In keeping with its philosophy that "It's All About the Kids", the Central NC Council plans to build a LEED Certified dining hall and Experiential Learning Center where scouts will be able to explore the skills and experiences in S.T.E.M. that will help prepare them for the competitive world market.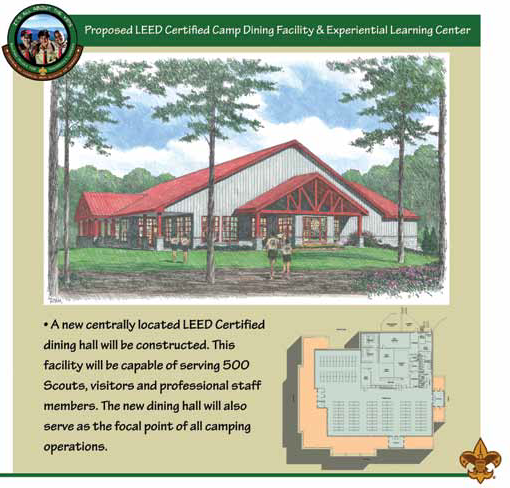 Once completed, the center will serve as the focal point of all camping operations and will be used as an educational tool as well as a dining facility. Programs will be developed to explore and demonstrate all of the ways the building uses sustainable materials, energy efficient building standards, establishes a healthy indoor environment and reduces the impact on the environment. "Scouting programs need to remain relevant and viable to the changing needs and interests of our youth," said Todd Walter, scout executive and CEO of the Central N.C. Council of the Boy Scouts. "The Central North Carolina Council is committed to making the scouting experience an opportunity for fun, adventure and personal discovery as we introduce energy and S.T.E.M. awareness to scouts ages six through 18 as well as to our adult leaders."
One of the many ways scouts can gain hands-on exposure to S.T.E.M. is by earning merit badges around engineering, environmental science, public health, forestry, electricity, energy, soil and water conservation, meteorology and geology. Furthermore, the Central Carolina Council will create a program at the center to assist scouts in obtaining the William T. Hornady Award, which encourages and recognizes outstanding efforts in natural resource conservation and environmental protection.
"Once implemented, with help from local and regional foundations, the Experiential Learning Center will provide the highest standards of education in energy, science, technology, engineering, mathematics, recycling and environmental performance to prepare our future workforce and leaders for life," said Walter.
The Central N.C. Council of the Boy Scouts of America represents 12,000 youth and 4,000 adult volunteers in the seven-county area including Anson, Cabarrus, Montgomery, Richmond, Rowan, Stanly and Union counties. It has been rated the number one council out of 93 in the Southern Region.
For more information about the Central North Carolina Council's STEM Initiative, please call 704-982-0141.