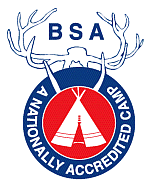 Camp Calendar of Events
February 12, 2022-February Merit Badge Day
February 18-20, 2022-Order of the Arrow iLead
February 26, 2022-Order of the Arrow Workday
March 5-6, 2022-ILSTC Training
March 18-20, 2022-Order of the Arrow Spring Ordeal
March 25-27, 2022-Camp Unavailable
April 9, 2022-OA Conclave Workday
April 16, 2022-OA Conclave Workday
April 22-24, 2022-OA Conclave
May 7, 2022-Conservation Merit Badge Day
Camp Documents and Forms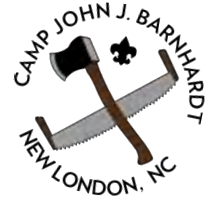 Camp Barnhardt Summer Camp Promo Video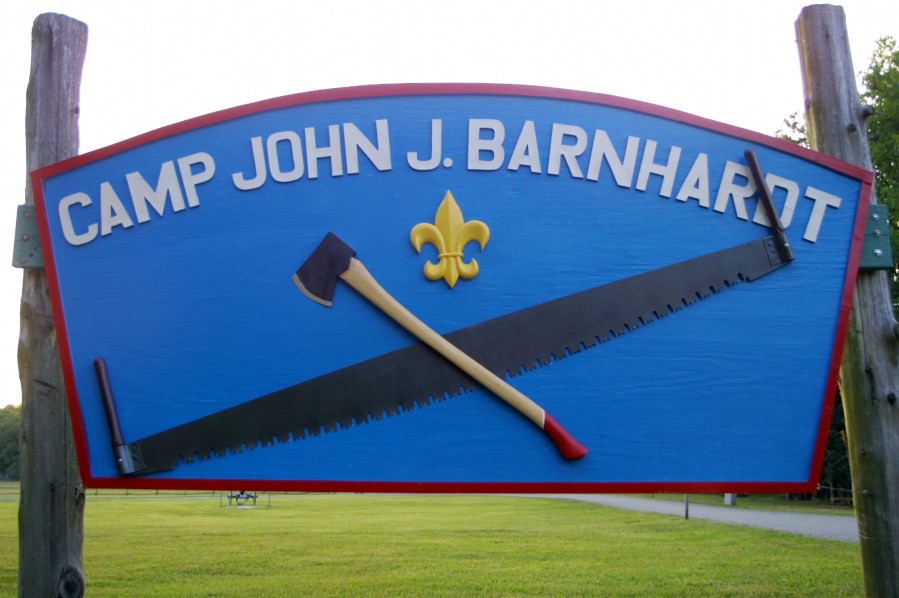 Camp John J. Barnhardt, located on the William C. Cannon Scout Reservation, is 1,000 acres of beautiful, rolling wooded hills beside Badin Lake and is one of the premier Scout camps in the southeast. Camp Barnhardt is located off of Hwy. 740, half way between New London and Badin in Stanly County, North Carolina. There is a caution light at Camp Barnhardt Road on Hwy. 740 and a sign directing you to the camp entrance.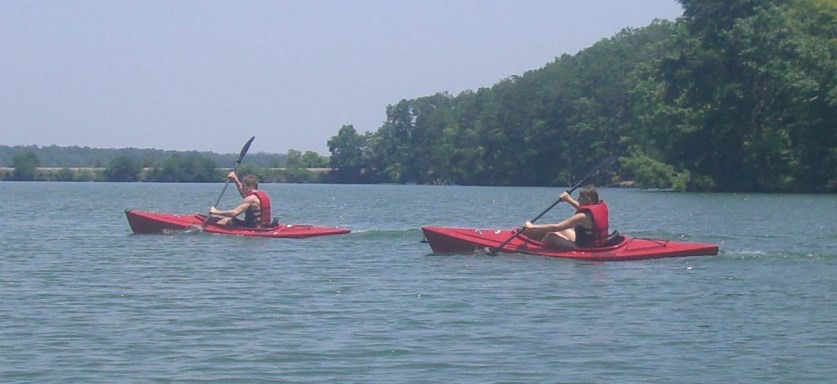 Some of the facilities at Camp Barnhardt include swimming pool/shower facilities, natural and man-made lakes for swimming, canoeing, sailing, snorkeling, rowing, kayaking, motor-boating, water skiing and great fishing. There is a well-equipped handicraft shelter, an ecology building, rappelling/climbing tower, C.O.P.E Course, obstacle course, rifle, shotgun, and archery ranges. Our outstanding facilities provide opportunities for your Scouts to take advantage of the excellent merit badge and skills programs.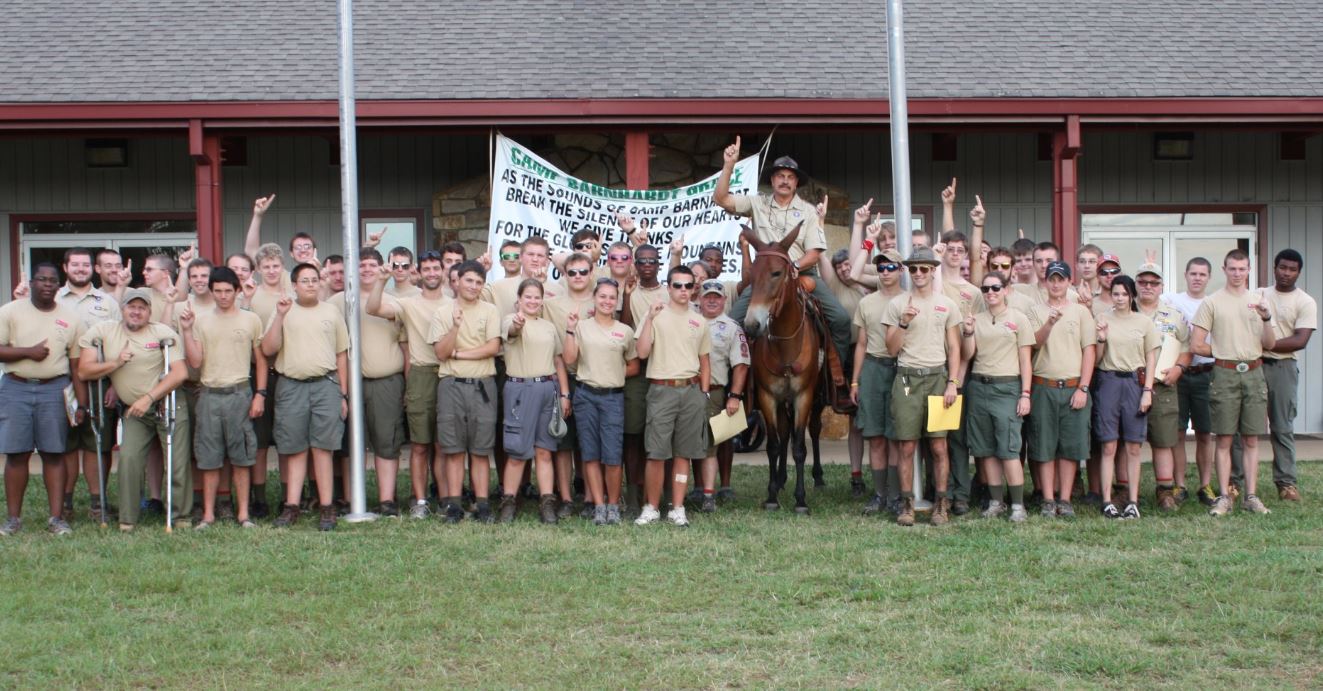 Although our facilities and natural surroundings are certainly an asset, our greatest asset is our commitment to quality program instruction. Our staff the past several years has had an experienced adult staff member in every program area. In addition to a staff that is selected for their knowledge, skills and dedication to Scouting principles we close our camp registration for any week once we have 275 scout campers. We are able to offer quality instruction in small merit badge classes that other camps cannot duplicate. We typically have the same number of staff members that other camps camping 350-400 a week have on staff.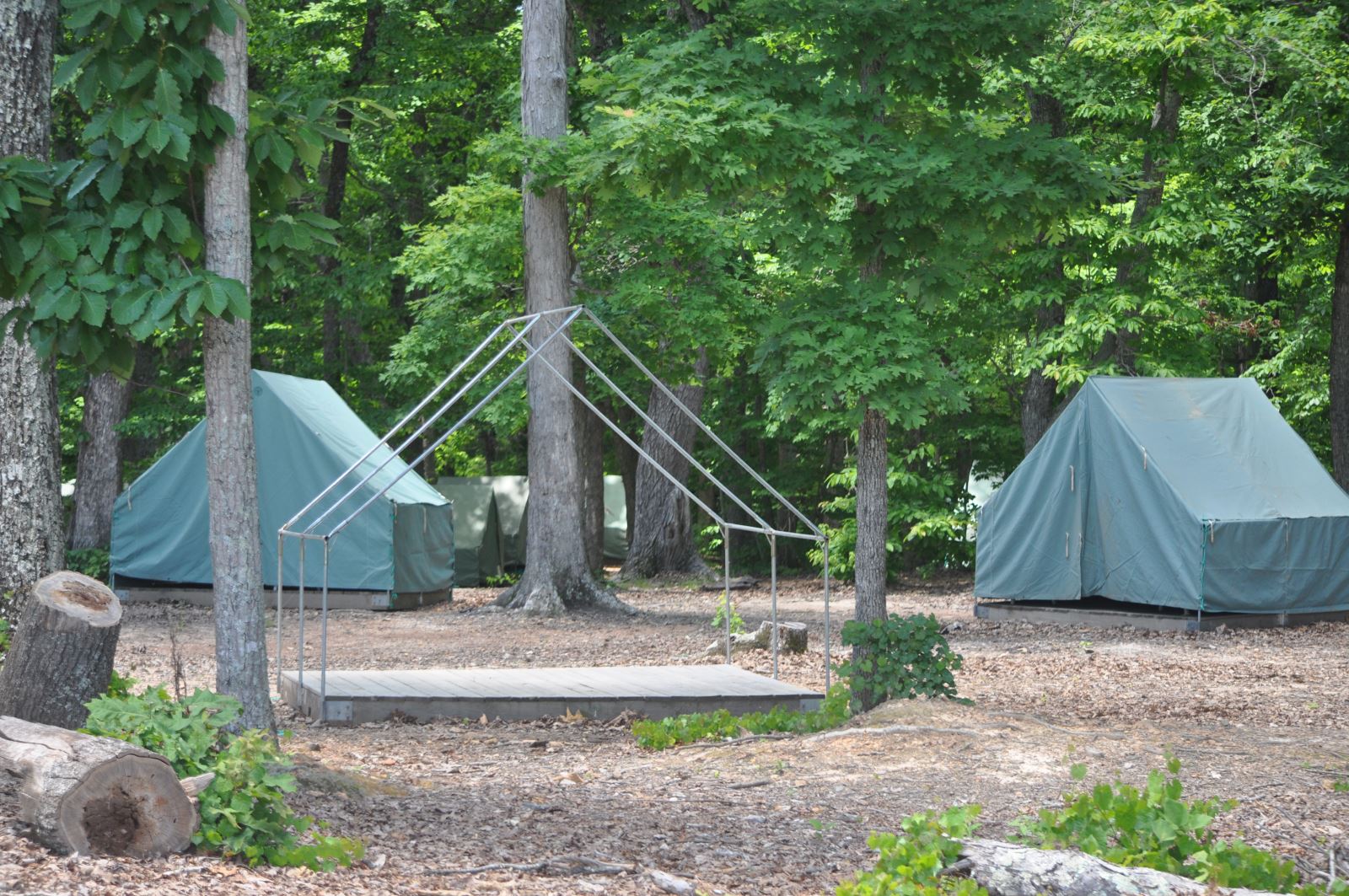 Spacious troop campsites located in groves of hardwood trees offer relaxing afternoons in the shade in the heat of summer. All campsites have electricity, a permanent program shelter with lights, tent platform camping (steel frame systems), latrine facilities with a shower and hot shower facilities in close proximity.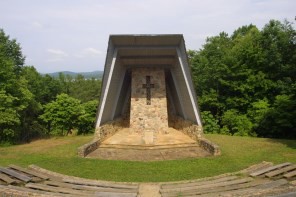 Montgomery Campfire Circle, a replica of a Seminole Indian enclosure, is the site for many entertaining campfire programs and ceremonies. The outdoor Barnhardt Chapel is an outstanding example of design and structure in stone and stained glass in a beautiful setting with the lake and Uwharrie mountains as a background. (A picture of it has been featured in many publications and, because of its beauty and lovely setting, it is frequently used by others for weddings and religious services.)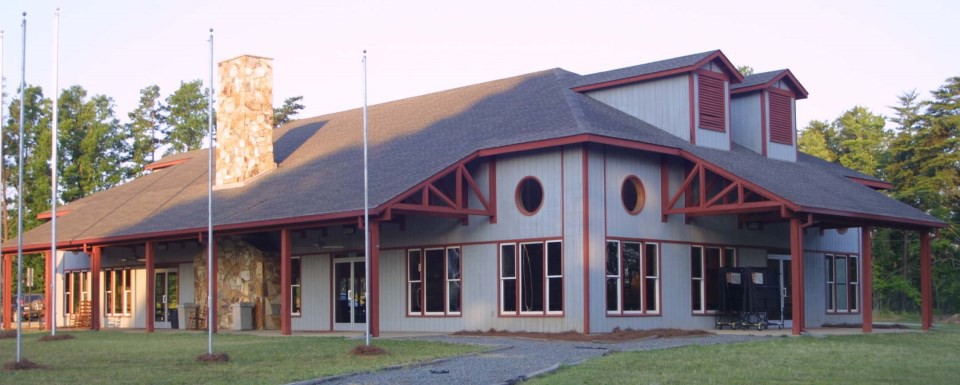 All meals (except for the Wednesday evening "family night" picnic) are served in the 350-seat William C. Cannon Dining Hall. The building is fully air-conditioned and provides a comfortable place to enjoy the nutritious meals prepared by our staff. Besides the air-conditioned dining hall, there are a number of other features which are designed to make your Scouts' stay more pleasant. We have a fully stocked trading post with a full line of Scouting supplies as well as snacks and drinks. The individual hot showers located at the swimming pool help Scouts to be "clean". A basketball court, volleyball, softball, and other sports fields let the Scouts have fun as well as helping them to be physically fit.
2022 Summer Camp Leaders Guide
2022 Summer Camp Reservation Form
2022 Barnhardt Activity Schedule (List)
2022 Barnhardt Activity Schedule (Chart
Activity Descriptions and Pre Reqs
2022 Summer Camp Registration: http://www.centralnccouncilbsa.com/event/space-available/2022-camp-john-j-barnhardt-summer-camp/73784